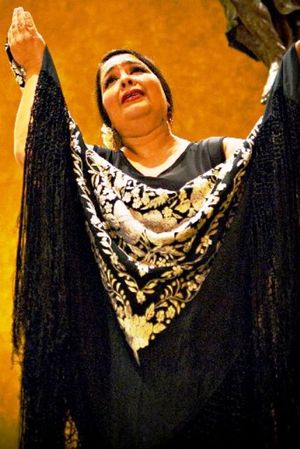 "Chayito captivated her audience with her haunting voice."  --- New York Times

Flamenco singer Chayito Champion began singing at an early age carrying the legacy of her family of flamenco artists. She is in high demand both nationally and internationally, always captivating her audiences with her heartfelt and passionate performances. Chayito says "I don't remember when I started to sing it was like walking and talking I just did it."

Her recent engagements include such prestigious venues as Repertorio Español, Thalia Theatre, Carnegie Hall and Lincoln Center in New York City. She is currently the Flamenco singer for Jácome Flamenco and Carlota Santana Flamenco Vivo. Chayito recently recorded 2 Albums Asi soy Yo and Levanto.In 1978 she was given the name Gitana Americana by the late Antonio Montoya, El Farruco, who was traveling with his son, Farruquito, and Chayito's father, El Curro, as part of Jose Greco's flamenco company.

She has toured the world with such artists as the late Jose Greco, Antonio Vargas, Teo Morca, Antonio Vargas and Pilar Rioja, Luis Montero, and Antonio Hidalgo with Carlota Santana Dance Co. to name a few. Some highlights of her career include H.O.L.A. Award and A.C.E. Latinos Critics Award in 2003 in New York City as well as Prime Minister of Shri Lanka's ambassador's award in 2004.  Chayito wants to thank her parents for the wonderful gift of flamenco! She always remembers her father's words, "Live flamenco!" - and so she does.